OZONATED OIL - OZORIE
In European countries, Ozonated olive oil has been applied topically to treat a variety of skin diseases, for disinfecting the lesions and promoting their healing. Ozonated olive oil is applied as a balm or salve for long-term, low-dose exposure. In Cuba, Ozonated sunflower oil is applied externally to treat a wide variety of skin problems. Ayurveda praises the properties of Til Oil. It is easily available, widely acceptable and with inherent healing properties. That is why we in India have selected Sesame (Til) Oil.
Ozonated Oil preparation: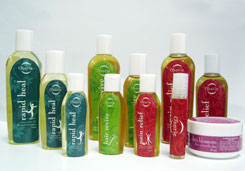 Ozonated Oil is prepared by bubbling Ozone gas through any vegetable oil for a varied length of time.
It is stable for 6 months at room temperature & for one year in refrigerator.
It has a peculiar smell and is viscous oil.
Click here to download the Ozorie Oil Product Posters (PDF Format:1.03MB)
Ozonated Oil Indications:

| | | |
| --- | --- | --- |
| General Indications | Indications for skin | Surgical Indications |
| Scrapes | Eczema | Diabetic foot |
| Bruises | Acne | Non healing wounds |
| Cuts | Herpes | Bed sores |
| Infected wounds | Fungal infection of nails | First & Second degree Burns |
| Bee stings | Athlete's foot | Prevention of scar formation |
| Insect bites | Chronic infections | Intractable fistulas |
| Rashes | Prurigo | Venous ulcers |
| Gingivitis | Wrinkles, freckles & aging of the skin | Vulvovaginitis |
| Fissures | Fibrotic scars & keloids | Hemorrhoids |

How does it act?
Ozone attacks the lipids in the bacterial cell membrane forming variety of oxidants. These bacteria lack the anti oxidant defense enzymes and that is why they are destroyed.
Ozonated Oil is effective against most common disease producing bacteria, virus and fungi. It is also effective against organisms causing hospital acquired infections and multidrug resistant pathogens.
Thus it decreases the excretion of pus and also stimulates healing of the wound.
How to apply Ozonated Oil?
Affected area is cleaned with water.
Ozonated Oil is spread over the moist affected part evenly with a finger.
Ozonated Oil can be applied twice a day for as long as required.
Applications close to the eyes must be avoided.

Currently we are producing:

1. Ozorie: Face cream: For Acne, Blackheads, Pigmentation
2. Ozorie: Hair oil-For Dandruff, Hair fall, Alopecia
3. Ozorie: Antimicrobial broad spectrum oil -Dermatitis, Eczema, Psoriasis, Herpes zoster, Warts
4. Ozorie: Pain Relief -For Painful joint pain and also muscular pain.

Ozone Forum of India